Top 14 Most Expensive Luxury Condominiums and Apartments in Tokyo
Tokyo, the bustling capital of Japan, is known for its vibrant cityscape, rich culture, and above all, its unique real estate market.
However, finding a luxury home in this city isn't as simple as playing a game of Monopoly. The game, which offers an equal number of cheap and expensive properties, doesn't mirror the real-life property market of Tokyo. The number of high-end homes available in this city has traditionally been quite limited.
But there's good news for those seeking the finer things in life. Thanks to a recent surge in construction, the city has seen a significant increase in the number of upscale condominiums and apartments. These new properties, boasting state-of-the-art amenities and breathtaking views, have greatly expanded the range of high-end living options available.
Let's explore the top 14 properties currently on the market—including both properties for sale and for rent.
Properties Currently for Sale
Tokyo's luxury real estate market offers a range of high-end homes currently for sale. These include condos and apartments with the best design, comfort, and location.
Let's take a closer look at these exquisite properties:
1. Marq Omotesando One
This premium residential home was recently completed in October 2021. It has four floors above ground and one at basement level, with a total of only 14 units to ensure exclusivity, making it one of the most coveted addresses in the city.
Marq Omotesando One is located just a 2-minute walk from Meiji-Jingumae Station in the heart of Shibuya Ward (1-10-8 Jingumae, Shibuya-ku, Tokyo), making it an excellent location with good access to all areas of Tokyo. The vast greenery of Meiji Shrine is located near the property.
Thus, you can enjoy the spectacular view during the cherry blossom season in the spring and autumn colors to feel nature firsthand, despite living in the middle of Tokyo. The property is also near the famous shopping "high street" of Omotesando, which is like the Champs-Elysées of Tokyo.
The residence offers an extensive line-up of spacious units with floor space in excess of 250m² (approximately 2,700 square feet). While all 14 units have been designed with a 3LDK floor plan, dimensions vary by residence within the range of 237.5㎡ (2,557 square feet) to 251.8㎡ (2,711 square feet). Some apartments feature a terrace of 24.26㎡ (261 square feet), and others have a balcony of 81.60㎡ (878 square feet).
All 14 units have a maximum ceiling height of 2.8m (9 feet) and adopt a matching custom-sized window-frame height of the same height, giving a feeling of openness, and creating a feeling of seamless integration between the living-dining room space and the balcony. The full-height sliding glass wall further blurs the transition between indoor and outdoor space, and the high ceilings create a gentle and natural lighting environment.
World-renowned brands like Dornbracht are standard features, and the spacious balconies, which can be up to 4 meters (approximately 13 feet) deep, are also attractive. All the essential facilities, such as air conditioning, underfloor heating, a washer-dryer, a dishwasher, and a refrigerator, are provided, allowing you to be able to move in right away and enjoy a comfortable urban lifestyle.
Marq Omotesando One is a 4-minute walk from Harajuku Station and a 9-minute walk from Omotesando Station on the JR Yamanote Line.
The most expensive condominium, the penthouse that includes a swimming pool, is rumored to be on the market for more than 5 billion yen ($36.3 million). Pricing for the units on the lower floors currently falls in the range of 999,000,000 ~ 2,020,000,000 yen (US$7.35million ~ $14.85 million). There are additional monthly assessments.
2. Toranomon Hills Residential Tower (虎ノ門ヒルズ レジデンシャルタワー)
This premium residential home is one of the highest quality residences by Mori Building Co. The interior design is by Tony Chi, the same designer who created the guest rooms at Andaz Tokyo, and the contemporary artwork in the building is supervised by the Mori Art Museum. Everything about this property—from the layout, facilities, and design of the rooms—is high-end.
The interior has a simple, modern look that eliminates unnecessary decoration and allows you to enjoy the refined beauty of the space. The designer paid special attention to the way light is introduced and the way spaces are connected.
The designer put special emphasis on the common facilities as a residence where people live and sometimes invite guests. Combined with its convenient location in the heart of the city, residents can fully enjoy the richness of living in Tokyo.
Toranomon Hills is a remarkable skyscraper complex located in the Toranomon district of Minato, Tokyo, Japan. Developed by Mori Building and designed by Nihon Sekkei, the complex is situated around the new Loop Road No. 2, a surface artery that connects the Shinbashi and Toranomon districts.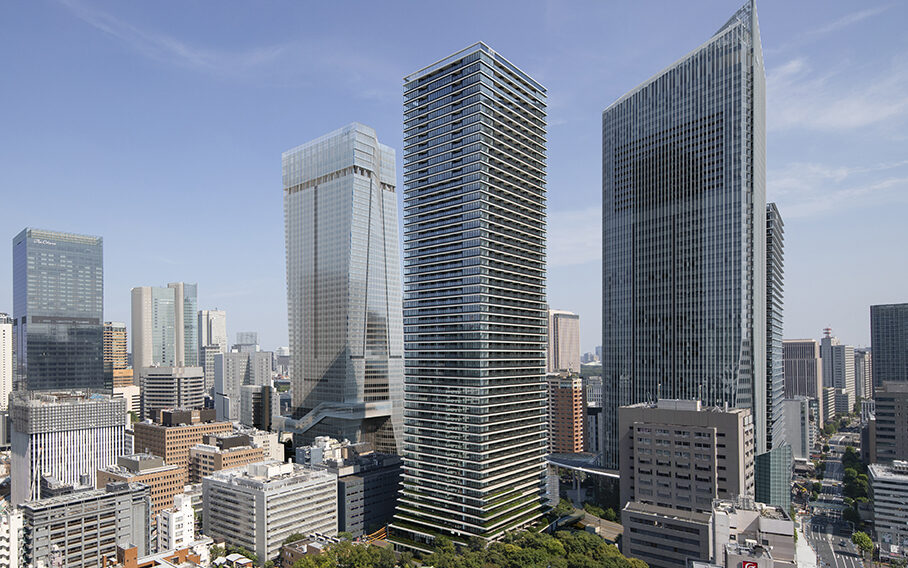 The complex features four distinct buildings: the Toranomon Hills Station Tower, the Toranomon Hills Mori Tower, the Toranomon Hills Residential Tower, and the Toranomon Hills Business Tower. The Residential Tower, standing at 222 meters (728 feet), offers a luxurious living experience in the heart of Tokyo.
Toranomon Hills Residential Tower was completed in 2022, following the completion of the Mori Tower in 2014 and the Business Tower in 2020. The last of the four skyscrapers, the Station Tower, is set to be completed in July 2023. The complex is a testament to Tokyo's urban development and architectural prowess.
The residence offers 13 different floor plans among a total of 547 units ranging from a 1LDK of 56.56m² (approximately 609 square feet) to a 3LDK of 226.88m² (approximately 2,442 square feet). Toranomon Hills Residence Tower is a 54-story skyscraper that also includes 4 floors underground. All apartments feature balconies.
Toranomon Hills Residential Tower comes with a full suite of amenities. The Toranomon Hills Kitchen on the ground floor is an exclusive restaurant open to all residents and their companions. Enjoy breakfast, tea time, and dinner. Food and beverage charges apply. On the 41st floor, you'll find the Guest House Living Dining, a 210m² (2,260 square feet) space where you can enjoy spectacular views of the city.
Two guest apartments can be rented separately. The kitchen and dining room are also available for parties. One flight up on the 42nd floor the exclusive Sky Salon is available for residents and their companions. Coffee, soft drinks and snacks are available, and room service can be ordered from the Toranomon Hills Kitchen.
There is also a meeting room in the salon that can be reserved for private use. On floors 2 and 3 there is a members-only spa and fitness club with a 25-meter pool, fitness gym, esthetic salon, and dining area. A variety of fitness menus, including personal training, are available.
Also on the 2nd floor is a satellite medical clinic of Tokyo's prestigious Tokyo Jikeikai Medical University Hospital. Doctors and bilingual nurses are available daily for health check-ups as well as for emergencies such as illness or injury. Nurses are on duty 24 hours a day. The building comes with a doorman and valet parking service. Pets are allowed, but there are restrictions regarding the size and type of pet that can be kept.
Toranomon Hills Residential Tower is located on top of Toranomon Hills Station along the Hibiya Subway Line in Minato Ward (1-1-1 Atago, Minato-ku, Tokyo). It is also a 6-minute walk from both Kamiyacho and Toranomon Stations. It is a 9-minute walk from Onarimon Station., making it an excellent location with good access to all areas of Tokyo.
Pricing currently falls in the range of 200,000,000 ~ 10,000,000,000 yen (US$ 1.5 million ~ $ 75 million).
3. Aman Residences Tokyo (アマンレジデンス 東京)
Aman's exclusive new apartments overlook Tokyo Tower within Mori Building's Azabudai Hills Mori JP Tower, which is part of the Toranomon-Azabudai development. Occupying the top 11 floors of the Azabudai Hills Mori JP Tower, Japan's tallest residential building, the 91 residences provide their owners with a true sanctuary in the sky. The planned completion date is still yet to be determined, but reports indicate availability from this autumn.
Combining the sophistication and convenience of a global metropolis with the intimacy and connection of a village, Toranomon-Azabudai is Tokyo's new green heart. The eight-hectare (approximately 20-acre) garden designed by Heatherwick Studio and Pelli Clarke Pelli Architects brings people together to form an unprecedented new community living in harmony with nature.
Designed to provide everything residents need on their doorsteps, Azabudai Hills Mori JP Tower offers numerous dining and cultural experiences. Within the complex are the prestigious international British School in Tokyo (BST) and an art museum.
Located on the 54th to 64th floors, each of the two- to six-bedroom Residences have its own dedicated elevator lobby.
Residence interiors have been designed by Yabu Pushelberg. This is the famous interior design studio founded in 1980 by George Yabu and Glenn Pushelberg with offices in New York and Toronto that now employs more than 100 creatives and professionals. Their expertise is designing buildings, interiors, landscapes, lighting, furniture, and other graphics with an eye toward how each element makes people feel rather than purely focusing on visual aesthetics. Details on the floor plans for the residential portion of Aman Residence Tokyo are not currently available.
Currently, available information suggests that each condominium will feature two to six bedrooms. Thus, apartments are expected to be able to accommodate a variety of family structures, from singles to families.
Aman Residences Tokyo comes with a full suite of amenities. Residents and their guests have access to several exclusive residents-only facilities on the 54th and 56th floors including a tea room, library, reading room, and a private lounge, bar, and dining room serviced by private chefs. The Aman Spa, an expansive 1,400m² (approximately 15,000 square feet) facility features panoramic city views and includes a 25m (82 foot) swimming pool.
The lower floors (1F to 13F) of the B-2 district will be home to the modern and playful Janu Hotel, a sister brand of Aman. Janu, which means "soul" in Sanskrit, will offer a unique approach to experience that emphasizes more human interaction and "social wellness" to better connect individuals and society. The interior design is by Denniston, led by Jean-Michel Gathy. The 120-room hotel, located in a prime location facing the lush central plaza, will also feature a 3,500m² (37,700 square feet) spa, the largest in Japan, with spa treatments and a gym, six restaurants, cafes, and bars that can be used for a variety of occasions, and warm hospitality for guests from Japan and abroad.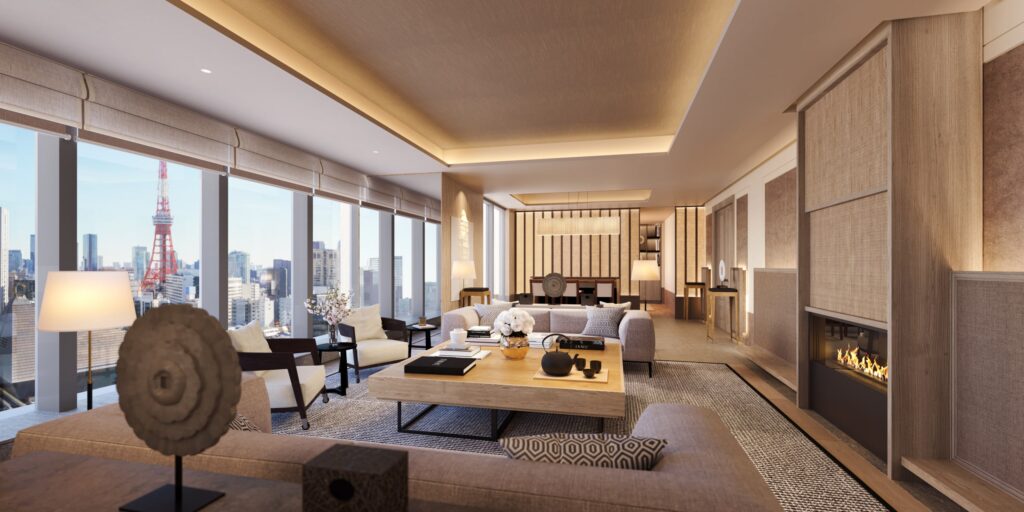 Aman Residences Tokyo is a short walk from Roppongi Itchome and Kamiyacho Stations, which are both connected via an underground corridor.
While pricing has yet to be announced, there are rumors that the most expensive units will be listed in excess of 2 billion yen ($14.5 million), and the least expensive unit will start at 1.5 billion yen ($10.9 million).
4. Park Mansion Hinokicho Koen (パークマンション檜町公園)
While the property management company, Mitsui Fudosan Residential, preferred to maintain the confidentiality of sales transactions, it is widely recognized that the prestigious penthouse apartment on the 7th floor became Japan's most expensive residential condominium when it first hit the market in 2017, valued at an impressive 5.5 billion yen ($40.3 million). This particular apartment is quite spacious at 580㎡ (6,243 square foot), which is almost unheard of in Japan—especially in the middle of Tokyo.
The property, which was completed in March 2017, is located between Roppongi and Akasaka, adjacent to Tokyo Midtown Hinokicho Park. This area boasts some of the best greenery in Tokyo, including Hinokicho Park, which was originally the residence of the Mori family, Akasaka Hikawa Shrine, and the Bank of Japan Hikawa Dormitory. Although the address is officially part of Roppongi, which is famous for its nightlife district, this part of Roppongi is a very quiet residential area.
The exterior of Park Mansion Hinokicho Koen has a textured appearance with protruding balconies. The apartments on the top 3 floors all have rooftop balconies. Each balcony is wrapped with a distinctive, curved railing. There is a driveway between the site entrance and the apartment entrance. The entrance to the condominium is treated as a basement level.
There are 46 units in all and only 9 units per floor on floors 2 ~ 4. The building features many elevators, which indicates that each apartment has at least one private elevator. The design is consistent with the overall emphasis on extreme privacy.
Because Park Mansion Hinokicho Koen is a very private condominium, there are no common facilities such as party rooms or gyms. On the other hand, it features services that exceed those of a five-star hotel. First, at the main entrance where the porch is located, there are always two concierges, two doormen, and a porter standing by. The concierges are extremely well-trained. They are known for going out of their way to greet visitors by name. When you talk with them in the lounge on the first floor, they will offer you a cup of coffee with drink service.
There is a dust chute next to the entrance of each room, where you can put out your garbage and press a button, and the concierge will pick up the garbage from each room and dispose of it. There is, in addition, a garbage disposer, so you do not have to step out of your room to dispose of your cooking-related garbage. There is also a home attendant service that can be requested that provides support for moving furniture and other items. Living at the Park Mansion Hinokicho Koen is truly like staying in a hotel.
Apartments rarely become available, and even just to get an appointment to see one, first you must become a member of Mitsui's Grandioso Club, a private club that provides its members with advance notice about the availability of both new and pre-owned condominiums in the Park Mansion series of Mitsui Fudosan Residential.
Members are able to apply for new listings before they go on sale to the general public. Although there is no entry fee or annual dues, members are pre-screened.
After the penthouse was initially put on the market for such an astronomical price, it sold quickly. Although unconfirmed, the buyer was, reportedly, a wealthy family from Southeast Asia.
As a point of reference, several years ago one of the smaller units, a 143.22㎡ (1,542 square foot) 2LDK residence on the 5th floor, was briefly listed on the market for 720,000,000 yen ($5.3 million).
5. Garden Passage Hiroo (ガーデンパサージュ広尾)
Garden Passage Hiroo is a low-rise, 2-story luxury rental apartment completed in December 2000. It is located in the exclusive neighborhood of Hiroo (3-8,11 Hiroo, Shibuya-ku, Tokyo).
This 7-unit property is in a quiet, upscale residential area across from the Japanese Red Cross Medical Center. The neighborhood has a strong international flavor with international schools and many embassies. It is a 5-minute walk to the Natural Lawson convenience store and a 5-minute walk to the National Azabu supermarket.
The stylish exterior with large glass panels creates an impressive sense of openness. A luxurious cobblestone approach leads to each apartment. The shared facilities are very well equipped, with a front concierge and a fitness gym.
The layout of most of the units is 4LDK with a range of 227㎡ (2,443 square feet) ~ 248㎡ (2,669 square feet).
It is called a "designer's mansion" in Japanese, which indicates a variety of amenities as well as the use of only top-notch design features throughout. All kitchens are, for example, equipped with a large gas oven and a dishwasher as standard equipment, which while sounding like a normal addition to any apartment anywhere else in the world, are a rarity in Japan.
In addition to comfortable facilities such as a fireplace, floor heating, and a large bathtub with an additional heating function, pets are allowed, so you can enjoy a comfortable life with the whole family.
The Tokyo Jogakkan-mae bus stop is a 2-minute walk away, offering convenient access to Shibuya and Ebisu Stations. The Aoyama Takagicho bus stop, a 7-minute walk away, provides easy access to Roppongi Hills, Nishiazabu, and Akasaka-mitsuke.
Units rarely come up for sale at this residence. One of the 236㎡ (2,540 square feet) 4LDK units on the 1st floor has been listed at various times for between 685 million yen ($5 million) ~ 719.3 million ($5.2 million).
In principle, all of the units at this property are supposed to be bought and sold only as condominiums rather than made available for rental. That said, some of the residences have been made available as rentals from time to time in the range of 1,400,000 ~ 1,850,000 yen ($10,250 ~ $13,500) per month.
6. Roppongi Hills Residences (六本木ヒルズレジデンス)
Roppongi Hills is a city within a city in the heart of Tokyo that attracts people from all over the world. The Mori Arts Center, the symbol of the city, a multiplex cinema complex, a retail zone with everything from luxury brand stores to casual cafes, a television station, and a hotel are all part of this cultural center of Tokyo.
The exclusive Roppongi Hills Residences provide a true sanctuary for relaxation, despite being located next to this beehive of activity.
Roppongi Hills Residences (12-1-3 Roppongi, Minato-ku, Tokyo) are in the middle of Minato-ku, which is a part of Tokyo famous for its embassies, parks, and international companies. It is also right down the street from the famous nightlife district of Roppongi.
The surrounding area is blessed with abundant greenery, including Arisugawa-no-miya Memorial Park and Aoyama Cemetery, and there is also a concentration of university hospitals and medical facilities for foreign residents. ASIJ Kindergarten (The American School in Japan Early Learning Center) is located nearby, making it a safe neighborhood despite being so close to the nightlife district.
Roppongi Hills Residences have been designed for demanding owners. Residence C, from the 36th to 43rd floors, offers, for example, Gallery White and Gallery Walnut, designed by G2 Design Studio, in a simple, modern style. 27th to 36th floors offer Forest, Desert, Mountain, and Shoreline, designed by Conran & Partners, Shoreline. In addition to the spectacular high-rise views, the apartments offer high-quality design and comfortable spaces.
Roppongi Hills Residences are available among 13 different floor plans scattered throughout a total of 547 units ranging from a 1LDK of 47.58m² (approximately 512 square feet) to a 4LDK of 296.62m² (approximately 3,193 square feet).
Residence A includes the bottom 6 floors above ground as well as 2 floors underground. It is composed of 35 units. Both Residences B and C are comprised of units from the ground floor to the 43rd floor as well as 2 floors underground. Residence B has 333 units, and Residence C has 198 apartments. All apartments feature balconies.
Roppongi Hills Residences have been designed to withstand a strong earthquake. Buildings B and C have high seismic performance as a result of concrete-filled steel tube (CFT) pillars and vibration control walls. CFT pillars are steel tubes filled with concrete, providing excellent seismic and fire resistance performance to ensure safety. In addition, vibration-damping walls that absorb seismic energy reduce swaying as much as possible.
The combination of these state-of-the-art technologies ensures a high level of seismic resistance that is appropriate for the concept of "from a building, you can escape from to a building you can escape into." In addition, the building is equipped with a disaster prevention stockpile for storing drinking water, emergency food, and other supplies in case of emergency.
Roppongi Hills Spa, a large-scale spa with a total floor area of 1,800m² (approximately 19,375 square feet), is located on the 3rd to 5th floors of Residence C. A variety of facilities and programs, including fitness, swimming, and treatments, provide natural relaxation to support a healthy lifestyle. The outdoor deck terrace is the perfect place to soak up the sun while enjoying a beverage. Its lounge also offers a continental breakfast service and a variety of other dining options.
The Sky Lounge, a lounge on the 42nd and 43rd floors of Residence B, offers residents a relaxing, not-too-formal, not-too-casual atmosphere. The spacious kitchen, designed for catering use, can accommodate both casual parties and formal events. In addition to the dining area, a bar counter, roof terrace, and guest rooms offer a variety of scenes to create the perfect moment. It can accommodate private gatherings of 4-5 people or parties of 30-50 people. This space can, moreover, be used as another living room (separate charges apply and reservations are required).
There is also a satellite medical clinic of Tokyo's prestigious Tokyo Jikeikai Medical University Hospital. Doctors and bilingual nurses are available for routine check-ups as well as for emergencies. Nurses are on duty 24 hours a day. The building comes with a doorman and valet parking service. Pets are allowed, but there are restrictions regarding the size and type of pet that can be kept.
Residents can also enjoy the beautiful rooftop garden designed by English designer Dan Pearson. The garden in Building A is an English garden full of delightful surprises, cleverly designed with a combination of Japanese plants. The combination of the wonderful view and the greenery is one of the unique charms of Roppongi Hills.
Roppongi Station along the Tokyo Metro Hibiya Line, and Toei Subway Oedo Line, Tokyo Metro Namboku Line is just a short walk down the street. Azabu-Juban Station on and Toei Oedo Line is also readily accessible, providing convenient access to public transportation.
Units rarely come up for sale at this property. One of the 100㎡ (1,076 square feet) 2SDK units on the 22nd floor has been listed at various times for between 293.5 million yen ($2.1 million) ~ 382 million ($2.8 million).
Units at this property are occasionally made available for rental. Rents range from 370,000 ($2,710) per month for a 31.86m² (approximately 343 square feet) 1LDK to 2,180,000 yen ($15,967) per month for a 166.62m² (approximately 1,793 square feet) 2LDK.
7. Park Court Aoyama The Tower (パークコート青山ザタワー)
Park Court Aoyama The Tower is a world-class luxury tower residence located in Minami Aoyama 2-chome, surrounded by the vast greenery of Aoyama Reien, Meiji Jingu Gaien and Akasaka Imperial Park. This 21-story, 163-unit high-rise condominium stands in front of the Tokyo Metropolitan Aoyama Park along Gaien Street. A short walk from such a green area is Omotesando Hills, Akasaka Sacas, Tokyo Midtown, and other international commercial facilities.
The curvaceous exterior design, composed of a series of glass and white horizontal lines by Emmanuel Barrois, has become a new landmark in Aoyama. The elegant curvilinear shape of the glass creates a panoramic view from inside the building, and the large floor-to-ceiling windows provide an open view from the tower's 31-meter-high elevation.  It has 26 stories above ground and 1 level below ground.
The top floor features an open-air infinity pool overlooking the city center, as well as a jet bath, fitness center, and womens-only treatment room. The Sky Lounge by Bruno Moissner on the 25th floor offers a luxurious and opulent atmosphere, while the Club Lounge offers bar service, a screening room with a large theater and sound system, and a private lawn garden on the 2nd floor with artwork by Sukin Kan Yasuda.
Additionally, residences have access to premium services such as concierge, valet parking, porter, and home attendant services.
Park Court Aoyama The Tower is made from reinforced concrete, according to the most stringent safety standards.
While units rarely come up for sale, lately there have been 6 condominiums on the market. The smallest, a 2LDK with a 70.42m² (759 square feet) interior, was listed for 210,000,000 yen ($1.5m). The most spacious, a 3LDK on the 24th floor with a 234.04m² (2,519 square feet) layout, was listed for 1,790,000,000 yen ($13.1 million).
8. The Kita
The Kita is a little different from the other featured properties in this article, but this unique 4-story structure completed in 2020 is one of the most sought-after new properties in the city.
It is just a little to the north of fashionable Harajuku in a quiet residential neighborhood.
The Kita sets a new precedent in Japanese condominiums, offering 12 expansive residences with sweeping, open living areas. Designed by the award-winning architect Kengo Kuma, each residence has been carefully designed to be intimate and welcoming, with a profound sense of atmosphere that balances Japanese tradition with Western expectations of space and privacy.
The Kita is intimate in scale but offers unparalleled freedom of layout, cohesiveness of design, and emphasis on mood and atmosphere.
Residents of the top or 3rd floor get to enjoy exclusive access to the Taschen Library Lounge which features a wooden seating installation designed by Kengo Kuma and constructed by B&B Italia. With over 50 titles from the Taschen library, residents are encouraged to read and enjoy a selection of books on art, architecture, Japanese culture, Japanese history, travel, design, fashion, music, and more.
The interior was designed with a combination of elegance and functionality. The walls and flooring in the living room area are made of Bianca Carerra marble, the closet doors are crafted from white oak, and the ceilings are painted with a matte finish and have inset lighting. The climate control system can be adjusted by room, and the suspended art rail system and Bang & Olufsen speakers add touches of creativity and modern convenience. The window coverings are remote-controlled silken linen weave curtains.
The Kita is a 2-minute walk from Kitasando Station at 3-12-1 Sendagaya, Shibuya, Tokyo.
While units rarely come up for sale, lately there have been 3 condominiums on the market. The smallest, a 2LDK with a 120.37m² (1,296 square feet) layout, was listed for 804,016,868 yen ($5.9 million). The most spacious, Unit 3012, which is a 2LDK with a 297.84m² (3,206 square feet) layout, was listed for 1,722,626,483 yen ($12.6 million).
Properties for Rent
In the vibrant city of Tokyo, renting a luxury apartment or condo can be an exciting experience. With a plethora of high-end properties available, you can enjoy premium amenities, great locations, and beautiful designs without the long-term commitment of buying.
Here's a selection of some of the most exclusive rentals currently on offer:
1. La Tour Daikanyama (ラトゥール代官山)
La Tour Daikanyama is one of the best La Tour brand residences, where the highest level of quality is the goal. This property is located in the heart of Daikanyama, an upscale neighborhood just one train stop away from Shibuya Station.
The 7-story building houses a total of 139 units, all of which are only available for rental. Completed in September 2010, the exterior and grounds of La Tour Daikanyama are simply spectacular. It features hotel-like concierge services. English-speaking staff members are available 24 hours a day, 365 days a year to ensure the comfort and security of the residents.
The floor plans range from 1BR to 5BR. It offers a variety of unique plans such as penthouse-type units that occupies an entire floor, units with a guest room, configurations with a private garden in which you can enjoy the feeling of being in a detached house, units with an indoor private garage, and apartments with a soundproofed room for musical activities, etc. Each unit is very spacious and has a view of the courtyard with rich greenery.
Amenities are top-notch. Most units come with a slide-type dishwasher/dryer, which excels in water conservation and can be used to efficiently wash a large number of dishes. There is an oven and a 5-burner stovetop for serious chefs. Food scraps are quickly crushed and processed in the sink's garbage disposer to reduce the amount of waste generated from each dwelling unit.
The crushed garbage is purified by a dedicated wastewater treatment system before being discharged, thus reducing the environmental impact. All units have a built-in, side-by-side washer and dryer. There is under-floor heating in the living/dining/kitchen section of each unit to keep you warm during the colder months.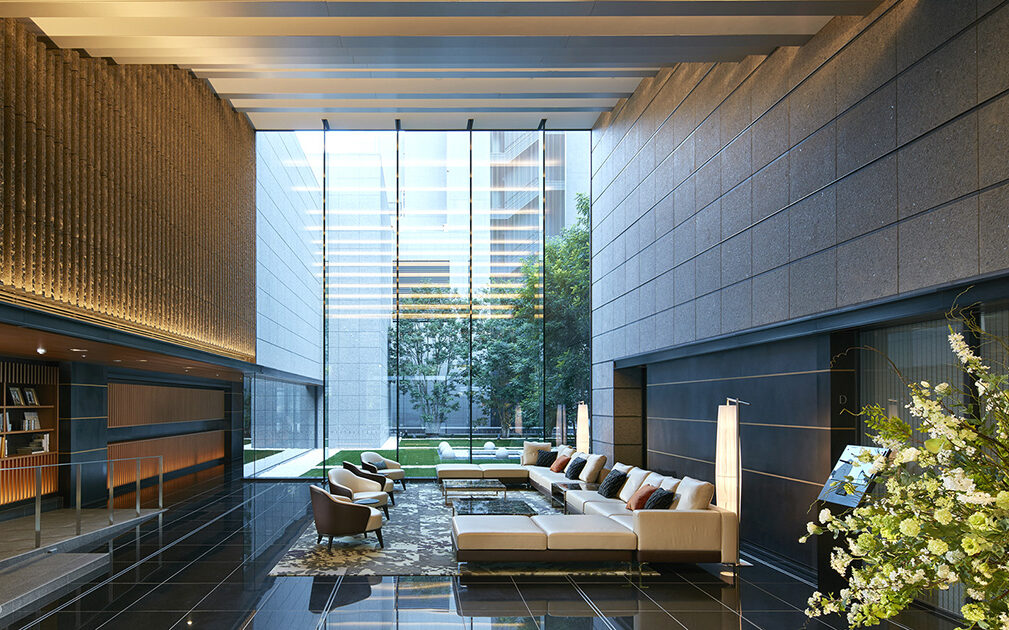 Pets are allowed (with some exceptions). There is an on-site indoor playground for toddlers, plenty of parking, and gym, rooftop terrace that can be reserved for BBQs, and a party room available for rental.
La Tour Daikanyama is so popular that rental units rarely become available. Based upon historical data, the average area of a typical property is 240m² (2,583 square feet), and the average rent is 1.81 million yen ($13,200).
2. Tokyo Midtown Residences (東京ミッドタウンレジデンシィズ)
The 166 units of the Tokyo Midtown Residences, a 25-story tower which was completed in January 2007.
All 166 units are located on the upper floors with great views. This property has 35 different floor plan layouts, including one to three bedrooms, studios, and maisonettes.
The interior facilities are of high-grade specifications. Kitchens are equipped with ovens as well as dishwashers and dryers, disposals, etc. A washing machine and dryer are standard in all units. In addition to the 24-hour ventilation system, floor heating is installed in the kitchen as well as the living and dining rooms.
The Tokyo Midtown Residences features 24-hour concierge services, a rooftop garden on the 12th floor, and a fitness room. The basement includes an entrance directly connected to the subway and shopping zone. Residents can also receive home clinic services in cooperation with Tokyo Midtown Medical Center.
Tokyo Midtown Residences are conveniently located near Roppongi Station, in the heart of Minato Ward. Within walking distance of this property, there are, in fact, 3 stations and 4 subway lines readily available, including Roppongi Station with access to the Hibiya Line and Oedo Line, Nogizaka Station with access to the Chiyoda Line, and Roppongi-Itchome Station of the Namboku Line. Along with convenient subway routes, the central business district is just a short taxi ride away. Also, Aoyama and Akasaka are within walking distance.
Rental units at the Tokyo Midtown Residences rarely become available. As points of reference, recently:
68.24m² (735 square feet) 1LDK was on the market at 700,000 yen ($5,100) per month
158.62m² (1707 square feet) 3LDK was on the market at 1,800,000 yen ($13,000) per month
3. Prestige Residence Shirokane Chojamaru (Prestige Residence白金長者丸)
Since its completion in May 2018, Prestige Residence Shirokane Chojamaru has certainly lived up to its designation as a prestigious home. This refined 3 story structure made from reinforced concrete only has 7 units.
While this property is located in Shinagawa Ward (2-7-16 Kamiosaki, Shinagawa-ku, Tokyo), it is adjacent to the exclusive, quiet neighborhood of Shirokane in Minato Ward.
The area surrounding the property is a high-class residential area with a calm atmosphere, despite its central location in the city, with commercial facilities such as Yebisu Garden Place and The Westin Tokyo on the north side and the National Museum of Nature and Science and the Tokyo Metropolitan Teien Art Museum on the east side. Shopping and dining are also just a short walk down the street.
All seven units are corner rooms, and each apartment has a private elevator. The exterior design is based on stately brown and wood tones. Security features include double auto-locks and intercom with monitor.
The living room has stone tiles, and the rooms are fully equipped with a system kitchen, dishwasher, a chef's stove, full baths, a bathroom dryer, washlet toilets, air conditioning, walk-in closets, and a floor heating system. Pets are allowed.
Rooms range from 1LDK to 4LDK, 203.60 m² (2,192 square feet) to 379.73 m² (4,087 square feet).
The property is a 7-minute walk from Meguro Station on the JR Yamanote Line, Tokyo Metro Namboku Line, Toei Mita Line, and Tokyu Meguro Line, and has direct access to major stations such as Shinagawa, Shinjuku, and Tokyo. With access to multiple train lines, the area offers a high level of convenience for both business and private use. Meguro-dori Avenue is also nearby, making it convenient for those who commute by car or take taxis.
Rental units at Prestige Residence Shirokane Chojamaru rarely become available. For reference, recently a 379.73m² (4,087 square feet) 4LDK was on the market at 3.5 million yen ($25,500) per month. A smaller 305.16m² (3,285 square feet) 2SLDK was listed for 1,950,000 yen ($14,200) per month.
4. The Scape (ザ・スケープ)
The Scape is a luxury rental designer condominium in Shibuya Ward (4-4-6 Higashi, Shibuya-ku, Tokyo).
The Scape is located in the Tokobanmatsu area, a residential neighborhood on high ground stretching between Shibuya and Omotesando. Located in a secluded setting, it is a peaceful living environment surrounded by greenery. Despite being in the middle of the city, one can truly "e-scape" to The Scape, a natural sanctuary.
From the large glass exterior to the high-quality materials used in the interior, the building has a sophisticated design throughout.  The property was designed by Kengo Kuma, the same architect as The Kita.  The windows offer a beautiful view of the lush greenery of the neighboring residence of Prince Hitachinomiya.
All units are over 100m² (1,076 square feet) in size, providing a spacious and open living environment, and are fully equipped with fully-electric cooking appliances, full baths, a bathroom dryer, washlet toilets, floor heating, and other in-room amenities that not only enhance the design but also make your daily life more comfortable.
It is an 11-minute walk from Omotesando Station on the Chiyoda, Ginza, and Hanzomon Lines and a 14-minute walk from Shibuya Station on the Yamanote Line.
Rental units at The Scape rarely become available. For reference, recently a 203.1m² (2,186 square feet) 3LDK was on the market at 2.3 million yen ($16,750) per month. A smaller 111.48m² (1,200 square feet) 2LDK was listed for 600,000 yen ($4,400) per month.
5. Azabu Gardens
This exclusive property includes 58 luxurious South-facing apartments. Azabu Gardens (3-7-5 Moto-Azabu, Minato-ku, Tokyo) is nestled on a quiet tree-lined street, just minutes from international schools, parks, shopping, restaurants and public transportation to other business districts. The National Azabu supermarket is only a few blocks away.
The grounds are maintained like a botanical garden with extensive landscaping with more than 80 varieties of native plants and flowers. The exterior of the building features warm, natural, Mediterranean limestone with a distinctive pattern. Full-height, south-facing windows and patios bring you closer to the outdoors. This property is very private with only 2-4 units per elevator. Select units include manicured private gardens and landscaped terraces. Penthouse suites feature spacious private decks with hot tubs.
The interior features superior and sustainable design and high-quality finishes. Much of the flooring was constructed from solid bamboo. Enhanced premium amenities include club lounge and rooftop terrace.
Enjoy family time in the Modern Club Lounge, a private, multi-functional entertainment space. Residents can cook in groups in the open kitchen, organize children's playgroups, or watch movies on oversized loungers. The lounge can also be booked for private events such as birthday parties.
Sweeping views over the city can be enjoyed by residents and their guests from the spacious Rooftop Terrace. Tokyo's mild weather and abundant sunshine provide many opportunities for relaxing in our sun loungers, dining al fresco, or hosting outdoor events with family and friends.
Azabu Gardens has fitness centers in both buildings, each open 24 hours/day for residents. State-of-the-art Life Fitness equipment with personal flat-screen monitors are offered on each machine, as well as iPhone/iPod connectivity.
Also, the fully furnished guest suite can be booked to host out-of-town or overnight visitors.
Apartments come in 4 main configurations including an ultra-luxurious 252m² (2,713 square feet) 5LDK penthouse, a 301.89m² (3,250 square feet) 5LDK, a 230.78m² (2,484 square feet) 4LDK, and a 150m² (1,615 square feet) 3LDK.
Both Roppongi and Azabu-Juban subway stations are also a short walk down the street.
Rental units at Azabu Gardens rarely become available. For reference, recently a 4LDK on the 5th floor was on the market at 2,750,000 million yen ($20,000) per month. A smaller 4LDK on the 3rd floor was listed for 1.8 million yen ($13,100) per month.
6. Homat Sharon (ホーマットシャロン)
Since the mid-1960s the Homat brand has been synonymous with premium housing specifically designed for long-term foreign visitors to Tokyo. It was, in fact, the pioneer in the development of this type of ultra-luxurious living standards in the country. In June 2021 the first new property in the Homat series, Homat Sharon, became available to rent.
The Homat Sharon is near the Embassy of France, the Embassy of Germany, and the Delegation of the EU, as well as international schools and Arisugawa-No-Miya Memorial Park.
Adjacent to the old Homat Sharon, the new property includes a total of 55 units. The building has 6 stories above ground and 1 level below ground. While there are a variety of floor plans, most are 4LDKs which are approximately 210m² (2,260 square feet). There are a few 3LDKs with a 155.08㎡ (1,669 square feet) layout as well as a few 5LDKs with 303.35㎡ (3,265 square feet) of space.
The building exterior and building materials were designed to incorporate elements of traditional, Japanese aesthetics. The entrance lobby has a 5.5m (18 feet) ceiling, an aerial garden, and an inviting lounge with a fireplace. The basement is equipped with a party room with natural light coming in from a skylight, a kids' corner, and a fitness room. The rooftop terrace features an open kitchen that can be used for BBQ and another space for kids to play. Bilingual concierge services are available 24 hours a day, 365 days a year, to assist all aspects of residents' life.
The Homat Sharon is an 8-minute walk to Hiroo Station on the Hibiya Metro Line.
Homat Sharon is so popular that rental units rarely become available, but range from 2,500,000 yen ($18,000) to 3,500,000 yen ($26,000).
While these listings represent the crème de la crème of real estate in Tokyo, these properties rarely become available, and all come at a substantial price premium.
Do not despair! There are literally thousands of other options. Please get in touch so that Tokyo Portfolio can match just the right home to meet your specific needs.